Are you looking for a campsite in Brittany with an indoor pool and water slides, as well as direct access to the beach? Look no further! Book your stay in southern Finistère at Camping de la Plage de Tréguer!
With the pool water heated to 28 degrees, everyone will enjoy taking a dip!
While our campsite is ideally situated for anyone who wants to swim in the sea, unfortunately we cannot predict the water temperature at the beach! Of course, it's cooler than in our pools but it's also very pleasant, we can assure you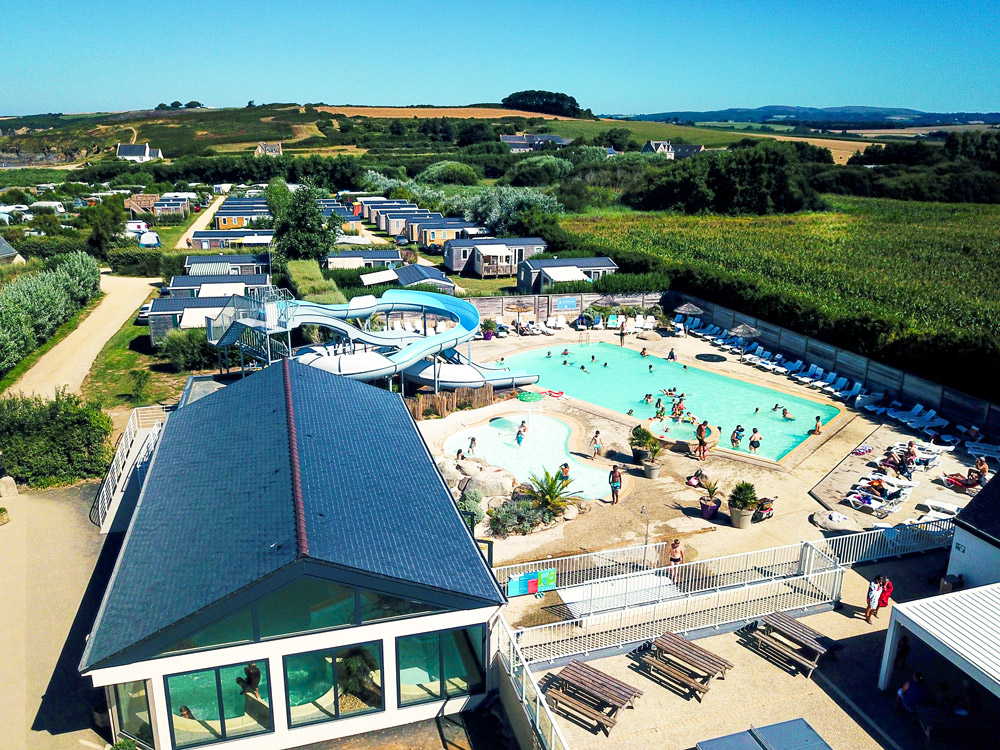 Enjoy the water park with family or friends !
Once settled in your mobile home or at your pitch, you'll have plenty of time to have fun with family and friends in our water park, open every day from 11 a.m. to 8 p.m.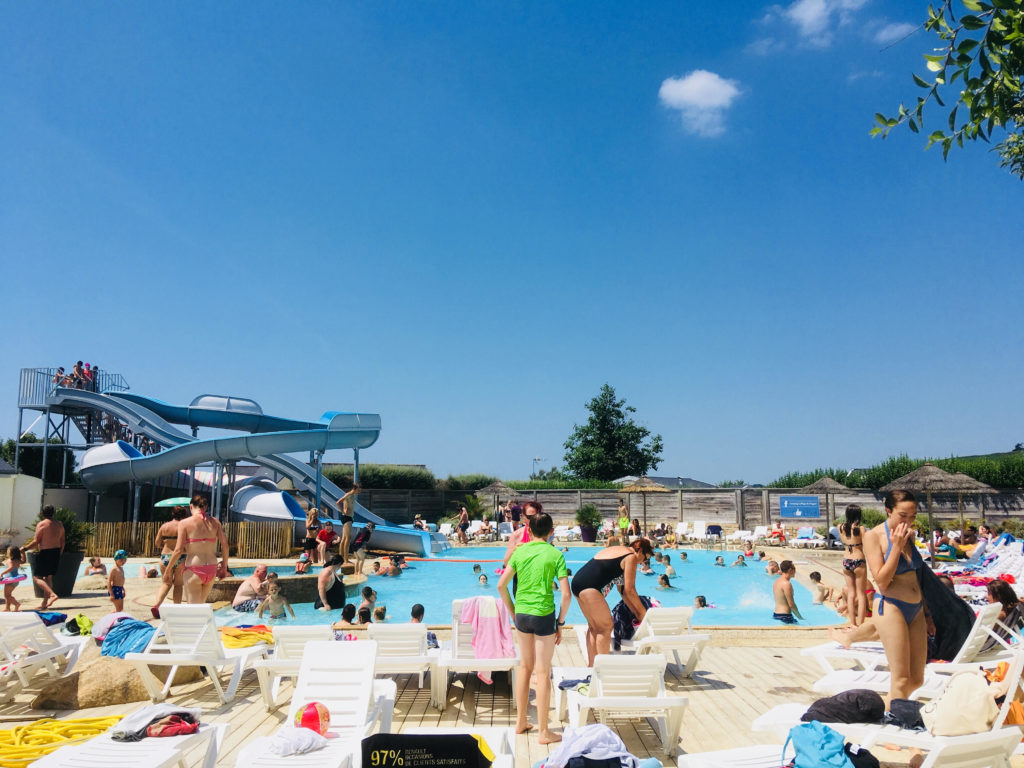 Our water park – 330m² designed for maximum enjoyment !
With water slides, an indoor heated pool, a large outdoor pool (18m x 11m) and a kiddies' paddling pool (10m x 5m) with water games for the youngsters, there is something to keep everyone amused!
There is space near the paddling pool for you to watch over your children while they have fun.
Tréguer water park is free and exclusively reserved for campsite guests.
Before and/or after your dip in the pool, lie back and relax on our sunbeds and loungers. You'll also find a whirlpool, rock waterfall, raining mushrooms and water fountains!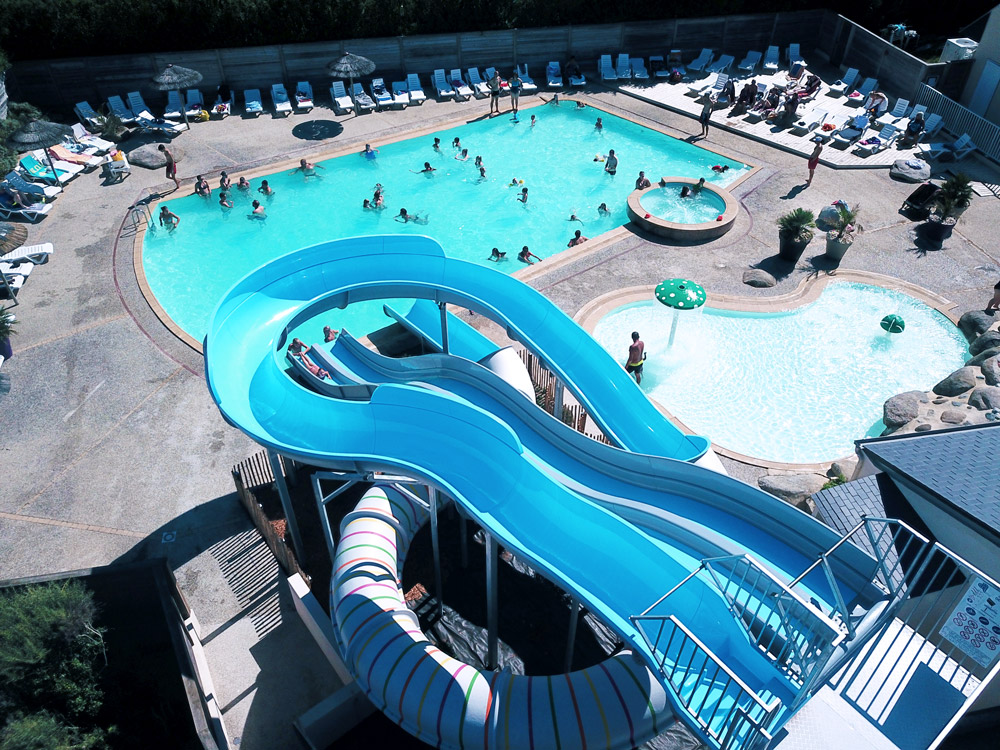 Water slides
To keep the kids (and their parents?!) amused, two waterslides and a spiral slide were installed in 2018. Whoosh down the slides and land safely in the special pool – guaranteed thrills throughout your stay at the campsite!
The slides are open from 19 June to 19 September.
The slides are accessible from 2 p.m. onwards, so holidaymakers can swim peacefully in the mornings if they want. Please comply with these times so that everyone can enjoy the water park to the full.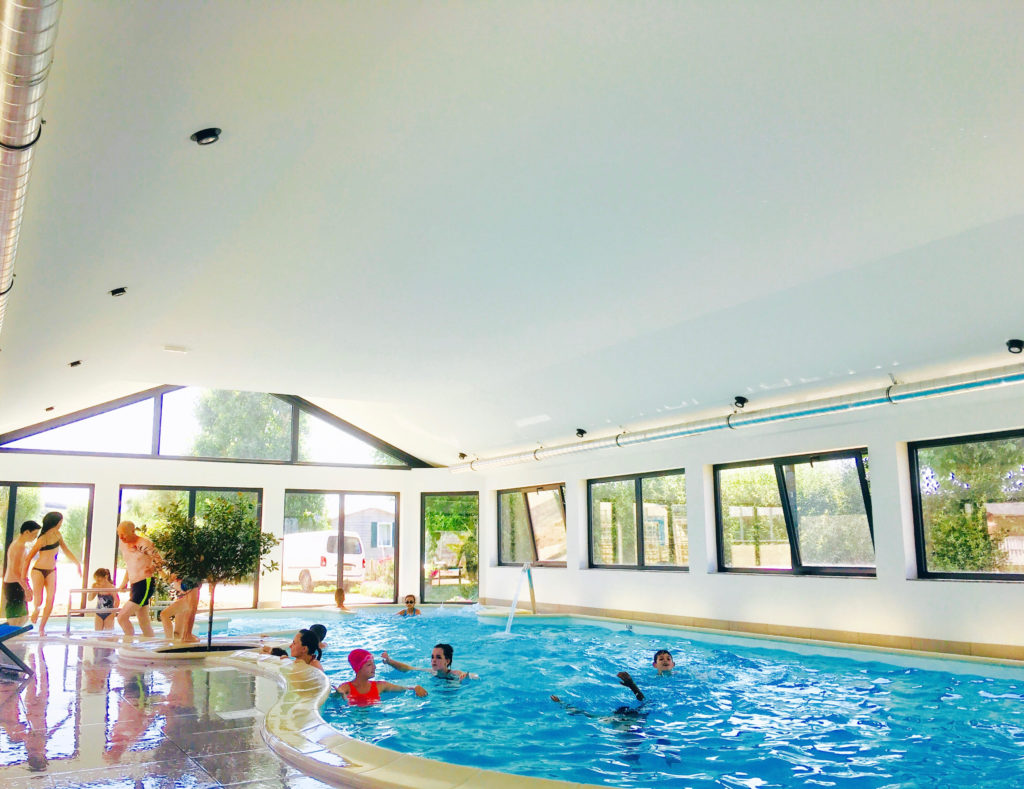 The indoor area
The indoor pool was created in 2018 and is somewhere to spend a quiet moment and enjoy the hydro-massage sprays. This is the ideal place to start your day or go for a swim on the (rare) days when the weather isn't great!
The indoor pool is open and heated from 2 June to 21 September.
It has one large pool (13m x 6m), a 3m x 3m paddling pool, a water cannon, and a spa facility with massaging bench and bubbles coming up out of the ground!
Loungers are provided.
The water park in pictures
Practical information
The rules of use for the water park are posted at its entrance. Please comply with them to ensure everyone's comfort and enjoyment. The slides are not open all day long – thank you for your understanding.
In the swimming pools, we prefer you to wear swimming trunks rather than shorts.
Minors remain under parental supervision.
For safety reasons, pay close attention to the depths indicated around the pools and on the plans.